Home
>
Press-centre
>
News
> Patching Repair Works Carried out on More than 500,000 m3 of Republican Roads
News

Printer-friendly version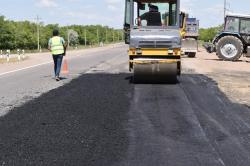 09/02/2020
Patching Repair Works Carried out on More than 500,000 m3 of Republican Roads
In order to ensure the safety of road traffic on the roads of Kazakhstan, the defects appeared on the road surface during its operation, such as potholes, corrugations, and rutting, are being rectified.
Till date, Kazakhautodor has already carried out more than 527,000 m2 of patching of potholes, rectified road rutting and corrugations on more than 127,000 m2 of the road pavement. In particular, on Ust-Kamenogorsk-Altai-Bolshenarymskoe-Katon-Karagai-Rakhmanovskie Klyuchroad the rectification workswere carried out on more than 147,000 m2, Kyzylorda – Pavlodar road - more than 67,000 m2, on Taraz - Utmek city of Kyrgyzstan, Shu - Blagoveshchenka and Western approach to Kyrgyzstan roads - more than 12,000 m2, on Karagandy-Ayagoz-Tarbagatay-Bogas, Samara-Shymkent and Zhykhaz-Zhetisay-Kyzylasker-Saryagash-ZhibekZholyroads - more than 5,200 square meters, Kyzylorda-Zhezkazgan– 5,800 m2, on Pavlodar-Uspenka-border of the Russian Federation, Pavlodar-Shcherbakty- border of the Russian Federation and Border of the Russian Federation-Maykapshagai roads the workers have been completed works on 31,000 m2 of the roads, and over 48,000 m2 repaired on the roads of Zhezkazgan - Petropavlovsk, Kokshetau-Kishkenekol-border of the Russian Federation and Kokshetau-Ruzaevka, on the roads of Podstepnoe-Fedorovka-border of the Russian Federation, Uralsk-border of the Russian Federation and Chapaevo-Zhalpaktal-Kaztalovka- border of the Russian Federation the road workers have been completed works on more than 25,000 m2.
It may be mentioned here that, the main reasons of damage and deformation of the road surface are due to the non-compliance by the drivers of heavy vehicles with the permissible axle load (8 tons) limit and the established temperature regime for the use of the road, which, in turn, leads to significant damage to the carriageway with the subsequent damage of the road surface. This factor significantly affects the work carried out, therefore, there is overachievement of the production plans. Therefore, in the Turkestan and Karaganda oblasts, the plan was fulfilled by 168%, in Zhambyl - 147%, East Kazakhstan - 139%, Kyzylorda - 120%, West Kazakhstan - 126%, Pavlodar - 102% and North Kazakhstan region by 105%.
The works are being carried out under a comprehensive deadline program in order to ensure uninterrupted and safe road traffic movements on the republican roads network.