News

Printer-friendly version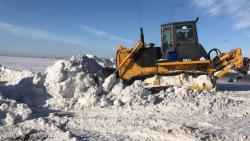 08/19/2020
Preparation for Winter Road Maintenance is Ongoing
Since July 1, Kazakhstan has commenced preparation for the winter season and the upcoming maintenance of the roads to ensure safe and smooth road traffic. Procurement of deicing materials and preparation of winter equipment are being actively carried out.
As of today, Kazakhautodor has available 1,098 Nos. of winter equipment. Additional procurement of 50 Nos. of road maintenance machinery and 30 Nos. of road equipment is planned by the end of this year.
Procurement of deicing material is 13%. In particular, 9,500 m3 of sand, 5,200 m3 of rock fines and 1,900 tons of salt have been prepared.
Production bases are 95% ready, including boiler houses, heating stations, warehouses, garages and parking areas.
This year winter maintenance will cover 24,700 km of roads, out of which 19,900 km will be maintained by Kazakhautodor, 4,100 km - by Contractors under transitional projects of road reconstruction and rehabilitation and 682 km will be maintained by the NC KazAutoZhol's Toll Roads Directorate Branch.