Home
>
Press-centre
>
News
> 339 km Aktobe-Atyrau-border of Russia (to Astrakhan) Road to be Open at late 2020
News

Printer-friendly version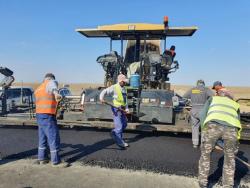 07/27/2020
339 km Aktobe-Atyrau-border of Russia (to Astrakhan) Road to be Open at late 2020
In the west of Kazakhstan, large-scale work continues on the reconstruction of one of the key republican highways, which connects two regions. This year, the road workers plan to open traffic on the 339th km of the Aktobe-Atyrau-border of Russia (to Astrakhan). Tolegen Abdullin, Deputy Chairman of the Committee for Roads of the MIID RK, inspected the work progress on the sites.
The total length of the road is 897 km. Reconstruction works are currently being carried out on 359 kilometers of the road. The project is divided into several road sections, and active construction works are being performed on each of them.
Todini Costruzioni Generali S.p.A, Akkord Construction and Industrial Investment Corporation, Shanghai Construction Group Co., Ak Zhol Kurylys Ltd and Ant Insaat Maden Sanayi A.S. perform the construction works on the 299 km Kandyagash - Makat road.
This year, the Contractors have completed 20 km of crushed stone-mastic asphalt concrete pavement course and 32 km of binder course on the site located in the Aktobe region. Since the beginning of the year, the road workers have completed 35 km of binder course and 37 km of the upper base course in Atyrau oblast. Kandyagash-Makat road will become available for traffic this year.
In addition, on km 100 – 160 road section the Contractor Uniserv has completed 8 km of the upper base course and 8 km of binder course since the beginning of the year. The entire 60 km road section is expected to be open for traffic in 2021.
Summing up the results of the inspection of the reconstructed sites, the Deputy Chairman of the Committee set tasks to perform the construction works timely and with high quality.